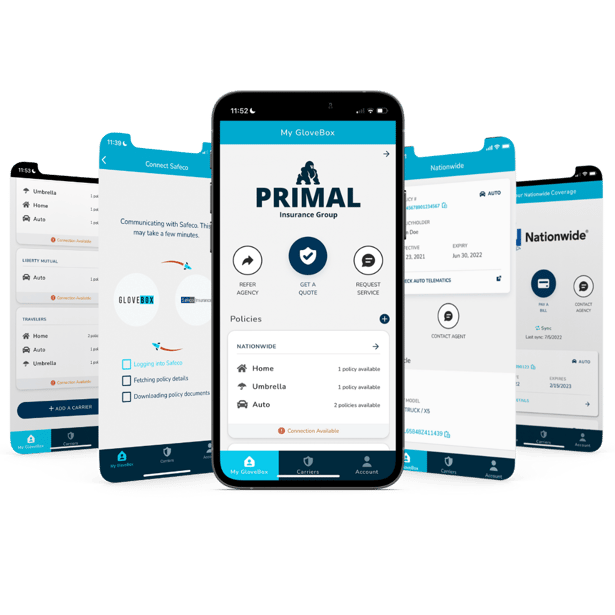 It's a great day at GloveBox! Our mission of providing the independent insurance channel with a premium client experience platform continues to take shape. Over the past many months, our team has been working on extensive updates to the platform in preparation for this release. You will experience a fully redesigned user interface that concentrates on what the user wants to see along with prioritizing agency needs. This improvement gives each stakeholder greater value than ever before. The NEW version of GloveBox is now available for update in the App Store and accessible on the web by visiting my.gloveboxapp.com.

As you navigate the new app, you will encounter several enhancements to the policyholder experience...

GloveBox is now more policy centric, with the home screen having an emphasis on policy type divided by carrier. The update to the interface provides our users clarity on their policies, their carriers, and details associated with each. Next, you'll notice improved navigation between screens thanks to bigger more responsive buttons. This upgrade shows how quickly a user can find what they are looking for more efficiently. Additionally, this version features enhanced text and button contrast, improved content readability, and call-to-action items.
Simply put, we needed to make the app more user-friendly, and believe we've done just that. Not only did we concentrate on the policyholder experience but we also enhanced the agency details screen which focuses on all forms of communication with the agency. Independent agencies that license the app should feel confident in providing a premium self-service to its policyholders.

As you may have noticed, we didn't include Android in this announcement. Be on the lookout for future updates for Android users by registering to our email list or by following us on social media.

If you have any questions or feedback about the New version of GloveBox, please don't hesitate to reach out to our team. We're always happy to help!

Updates include:

- Enhanced user experience
- Policy centric
- More User-friendly layout
- Button contrast
- Content readability and action items
Read More